Key Information
Academic Supervisors: Prof. C Pleydell-Pearce and Dr Z Abdallah
Industry Supervisor: Matthew C Davies
Expected Interview Date: TBC (Summer 2022)
Figure 1 visualises global energy demand. According to the international energy authority, of the heating component 66% is industrial heat. This represents a staggering 20% of total demand. All of these processes utilise refractory* materials to contain and manage that heat. Steelmaking is no different. In fact, an integrated steel plant produces enough waste heat in a year to heat 500,000 homes. As such, to achieve net zero and solve the current energy crisis we must enhance industrial thermal efficiency through revolutionary approaches to the design and use of these refractory insulation materials. This is the primary goal and impact of this project.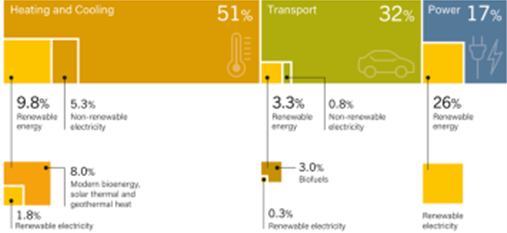 Figure 1: Total global energy demand distribution (Source: Renewables 2019, Global Status Report)
As TATA Steel moves towards its ambition of carbon neutral steelmaking by 2050 and a reduction of CO2 emissions of 30% in the UK by 2030[1], there is a need to transform the way sustainable steel is produced. Liquid Iron & Steel are both transported and processed in refractory coated vessels, examples being torpedoes, ladles, BOS (Basic Oxygen Steelmaking) vessels, tundishes, etc. At each process step, temperature loss occurs. The temperature deficit is addressed either through chemical heating processes, or adjustments made to scrap and alloy inputs to manage the final temperature. All of these steps increase energy requirements, have a resultant impact on the CO2 emissions and overall conversion cost of the final steel product; single degree changes across the operation can save hundreds of thousands of pounds per year.
This project aims to study the Refractory coating systems, to both assess and reduce the energy losses and CO2 emissions of the steelmaking process. This will involve a wide variety of exciting opportunities, such as:
Benchmarking
Design studies
Data analytics
Thermal / finite element modelling
Laboratory & plant scale trials (see Figure 2)
Development of measurement systems (both contact & non-contact)
Advanced refractory testing

Figure 2: The academic supervisor on the factory floor with red-hot refractory lined steelmaking ladle.
Collaboration with industrial, plant and research institutions will also be required that may provide exciting wider opportunities to share learnings for the benefit of the global steel industry.
* – Refractory materials are designed to be resistant to decomposition by heat, pressure and chemicals, and to retain their mechanical properties at temperatures encountered in the modern manufacturing environment. The purpose of a refractory material is to contain heat whilst simultaneously protecting processing equipment. Typically, these materials are used as coatings for boilers, furnaces, incinerators etc and have multiple applications in the steel making process.
[1] – Tata Steel in Europe Sustainability Report 2019/2020 (https://www.tatasteeleurope.com/sustainability https://www.tatasteeleurope.com/sites/default/files/TSE%20Sustainability%20report%202019-20%20%28EN%29.pdf)
—
COATED M2A recognises applicants have a variety of backgrounds with different educational and research experiences. We do not expect applicants to be proficient users of any techniques /equipment mentioned, at the time of application. Our focus is to upskill our participants and training will be provided.
COATED M2A in the Faculty of Science and Engineering is a Swansea University initiative which provides postgraduate research training in partnership with industry, providing access to world class laboratories and a wealth of academic and industry expertise. COATED M2A is committed to providing top quality research opportunities within an inclusive environment, funded by the Welsh European Funding Office (WEFO), the Engineering and Physical Sciences Research Council (EPSRC), Swansea University and Industry partners.
Interwoven through the research study are business, technical and entrepreneurial courses, designed to support and prepare participants for a senior role in industry or academia, on completion of their studies.
The Athena SWAN charter recognises work undertaken by institutions to advance gender equality. The College of Engineering is an Athena SWAN bronze award holder and is committed to addressing unequal gender representation. Applications from women and other under-represented groups are particularly welcomed. All applications will be anonymised prior to short listing.
Are you considering making an application and have questions you'd like answered? Come and have a 1-2-1 chat with us at our applicant surgeries (Link) . We encourage all applicants to review our hints and tips document found here.
Sponsoring Company: Tata Steel UK EN-Home Page | Tata Steel in Europe (tatasteeleurope.com)
Eligibility
Candidates must normally hold a minimum undergraduate degree at 2.1 level (or Non-UK equivalent as defined by Swansea University), or a combination of degree and equivalent experience to the same level.
Normally, we would expect candidates to have met the University's English Language requirements (e.g., IELTS 6.5 overall with 5.5+ in each component) by point of application.
Full eligibility can be found at https://www.materials-academy.co.uk/eligibility
Funding
Fees at UK rate and Stipend £20,000, both for the period of four years.
For full details on funding eligibility, please refer to the Materials and Manufacturing Academy (M2A) Website. Student Eligibility | M2A (materials-academy.co.uk/eligibility).
Candidates must have the legal right to live/work in the UK at the start of their studies (student visas do not qualify).
Closing Date: Subject to number of applications
Start Date: 1st October 2022
Applications and informal enquiries about this studentship should be directed by email to: