By Peter Hall
On a typical drizzly Swansea Tuesday morning I, along with my academic supervisors, left for Cardiff airport. We were traveling to Herzogenaurach Germany, I didn't know how to pronounce it either, the home town of Adidas, Puma and more importantly for us my sponsor company Schaeffler. We flew from Cardiff airport to Munich on a Brazilian Embraer E-190 with 120 seats and 26 passengers, so there was plenty of leg room. On arrival at Munich we boarded a train to the central station, where we were greeted by an unusual sight: not only were there double decker trains and ICE trains that can travel at 200mph, but they all arrived and departed when they were supposed to. An hour and a half later we arrived in Erlangen, from there a 20-minute taxi ride took us to our hotel. After dinner in the hotel and a night's sleep I awoke to see Germany for the first time in the daylight blanketed in snow.

After breakfast and a short taxi ride we arrived at Schaeffler to meet with the Engine Simulations and Analysis team. We discussed the progress that has been made since the last meeting on developing a specialist fluid structure interaction solver code for use at Schaeffler for analysis of engine oil system components. We then went on to discuss the start of my EngD with the M2A. Goals were decided on that would both benefit Schaeffler and enable me to learn more about the relevant topics and software, without jumping straight in at the deep end. I will use Swansea University's fluid structure interaction code to analyse oil valves with the task of characterising them for use in full system analysis in a one-dimensional simulation tool. We also organised monthly web conferences to provide a stronger link between the research being done for Schaeffler at Swansea and the methods and techniques they currently use.
After out meeting had concluded the team at Schaeffler showed us round the beautiful city of Nuremburg. There is a huge Castle, in the centre overlooking the whole city and its many cathedrals. We saw the old city hall and the Hauptmarkt central square where just a few weeks earlier the famous Christkindlesmarkt Christmas market, was held. We then ate a traditional German dinner together in a medieval themed restaurant located in the cellars of a house.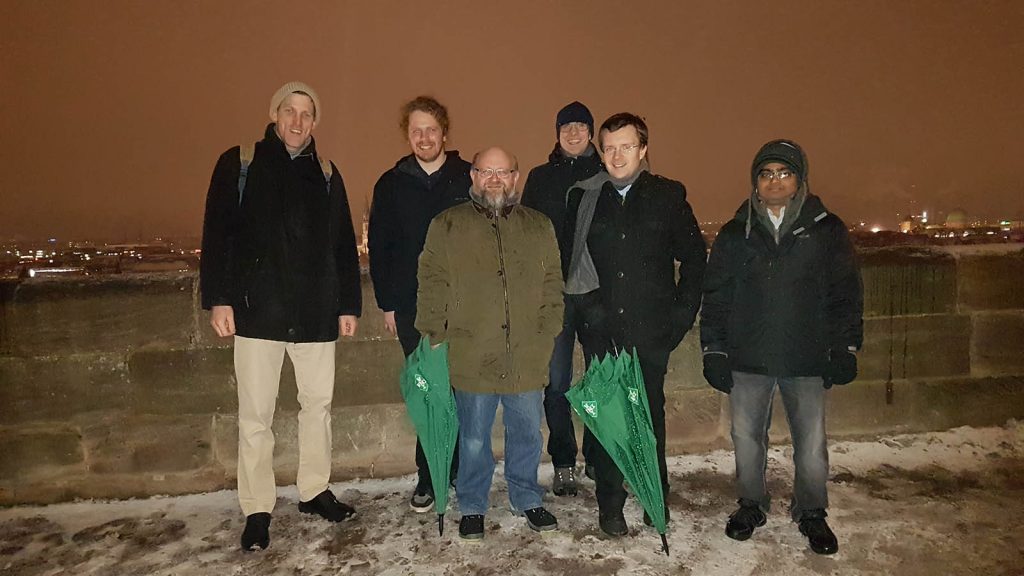 The next morning was the reverse of Tuesday, first taxi to the train station then train to Munich airport except from there we flew back to Heathrow. Despite the weather warnings and reports of cancelled flights on the news we arrived back in on time, the small amount of snow in England was a joke compared to what we had seen in Germany. We then drove straight back to Swansea with only one short stop for a packet of wine gums. After an enjoyable and productive trip to Schaeffler we look forward to their visit to Swansea later in this year.