By Samuel Minshell.
This year was the 11th International Galvatech Conference on Zinc and Zinc Alloy Coated Steel Sheet. Hosted by the prestigious University of Tokyo at the main Hongo Campus in Bunkyo, Tokyo, Japan. 8 members of Swansea University presented their research at the conference including Associate Professor Dr David Penney and 7 Engineering Doctorate Students (Research Engineers).
Upon arriving in Japan, the group explored the city a little, taking in the spectacular views at the top of the Tokyo Metropolitan Government Building, which overlooks the city and mount fuji in the horizon. After a sit-down meal together, the group then socialised in the Golden Gai district of Shinjuku; 6 tiny alleys with over 200 miniature bars, a real experience of old Tokyo.
Sunday 12th November 2017
The registration of the conference took place at the Ito research centre, University of Tokyo on Sunday evening. A welcome pack was provided and then a welcome party for all delegates and students. The welcome party area provided refreshments located near conference stalls, there was opportunity to network and converse with academics and industrial professionals from the steel industry.
Monday 13th November 2017
The opening ceremony of the conference started with talks from the chairperson of the committee, Shu Yamaguchi and then Noboru Masuko both from The University of Tokyo. The first plenary lecture was chaired by Frank E. Goodwin, Director of Technology and Marketing Development at the International Zinc Association, USA. Excellent presentations were performed by Becky Bolton, Callum Gallaghator, Rhys Faulkner and Don Hill; all Engineering Doctorate Students of Swansea University. Dr David Penney chaired the Conversion Coatings and Pre-Painted Steels session.
Tuesday 14th November 2017
The second day of the ceremony was again at a high standard with plenary lectures in the morning by leaders in their fields. Excellent presenting by Lewis Berry, Sam Minshell and Luis Escott; all Engineering Doctorate Students of Swansea University.
Wednesday 15th November 2017
The last day of the conference and the final talk by the group, an excellent talk by Dr David Penney. The group joined together for a meal out followed by snacks and drinks in Ebisu Yokocho, a lively street packed with Izakaya's (Japanese bars) built in the remains of the old Yamashita shopping centre. The group then showed off their vocal skills at Big Echo Karaoke followed by a night cap in A6 Bar, where the friendly barman arranged for out photo taken behind the bar.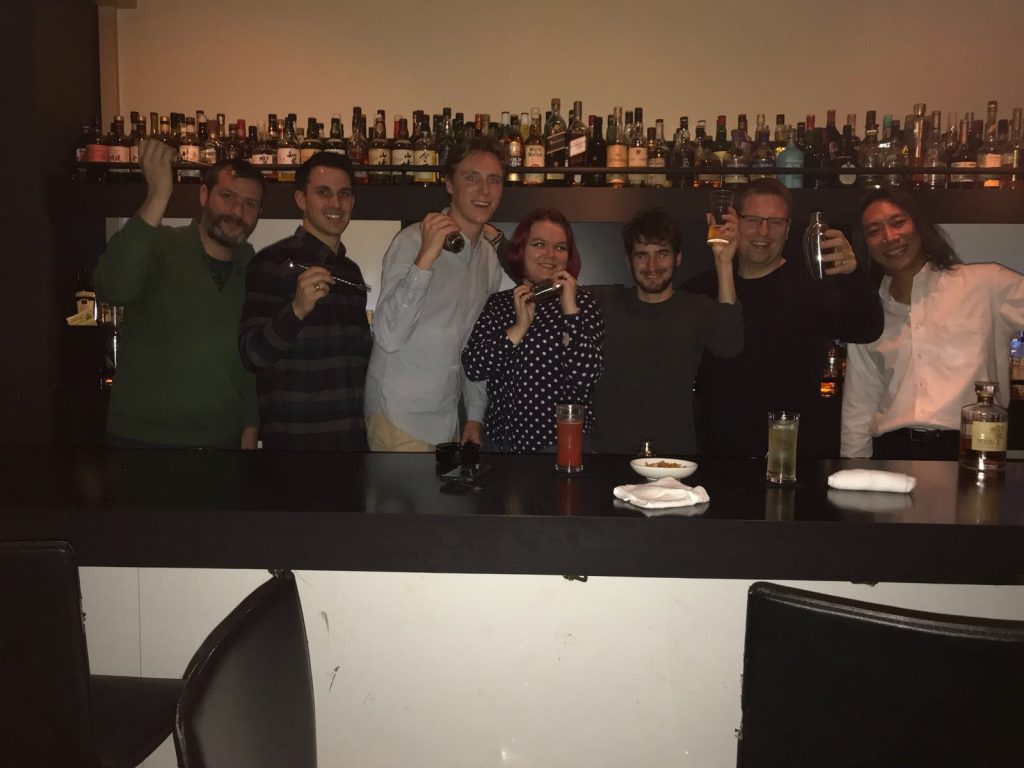 The following days after the conference allowed a little more exploring such as: Yoyogi Park, The rainbow bridge by Tokyo Bay, The Imperial Palace grounds, Tsukiji fish market with street food including Sashimi Takoyaki (Octopus Balls), some of the group took a trip to Mt Fuji, visited Cat Cafes and shopping malls.
The conference offered excellent opportunity to present research, network and gain knowledge. The trip was very rewarding for professional and personal development.